Yesterday the loudmouth Internet and radio personality took to social media to throw some more jabs at Mzbel calling her out for cheating with her [Afia's] boyfriend.
Afia released screenshots proving this. read that whole story here.
So first, she mentioned Castro's family's name in her post yesterday, asking Mzbel to go tell them some truth, read that story here if you missed it.
In a new comment posted by Afia Schwarzenneger when asked by a fan why Mzbel is mocking her, she responds with.
she is making fun of her prostitution and her inability to tell Castro family the truth
The question is what truth does Mzbel have to tell Castro's family? also owing to the fact that Afia has been stressing on Mzbel telling the world who her baby daddy is, it might be the case that she knows something the public does not know.
See a screenshot of Afia's comment below.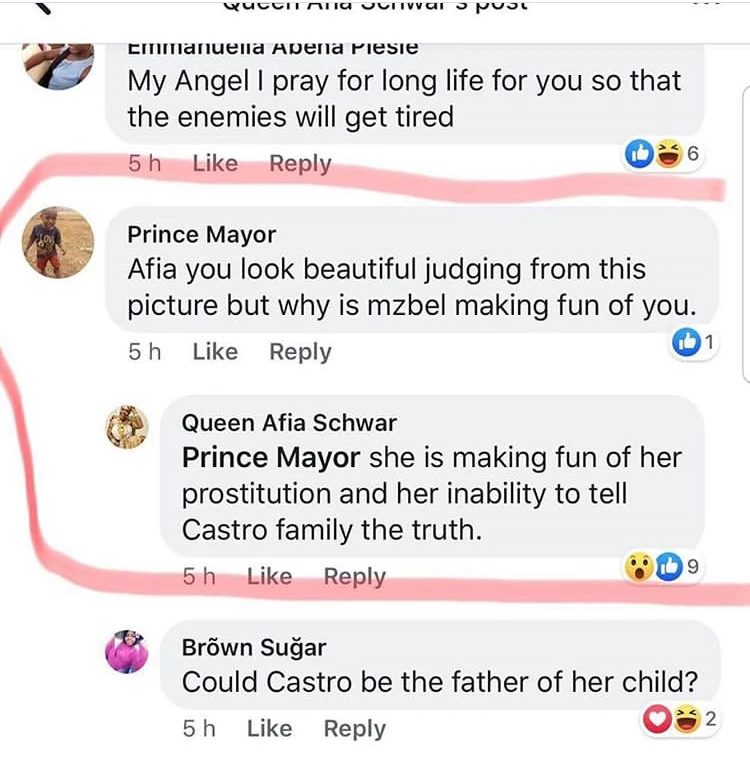 post by: thedistin.com.
Have you got a story or article for us: send it to us here.
Since You Are Here
Watch our latest interview with Goddess Ginger– She talks about music, Shatta Wale, Kuami Eugene and more...
JOBS & VACANCIES
Looking for a job? check out out jobs/vacancies sections here and join our "WhatsApp Group" to get notified when new jobs are posted.
Click To Join Now!!
Become member of our community by joining our WhatsApp and Facebook Groups Click the the images below to join now
— Browse New Stories —