Reno Omokri has descended on side chicks who get involves with married men to cause destructions in their homes to stay away from such an attitude for peace.
In series of posts he shared on his Twitter page, he advised his fellow men to avoid giving all needed attention to their girlfriends instead of a woman whom he is legally married to and is worth even his life.
He added that women who get clung to people's husband would never find peace and harmony in their lives until they refrain from their filthy acts.
His comments indeed attracted reactions from users as a user identified as Jayla Stiles, called him out to be careful with his statements before his side chick sees his comments.
In his reply to her, he gave the opportunity to any lady who thinks he has slept with or is dating her since he got married to his dear wife should come out and say it or forever keep mute.
See his post and reactions below:
Dear Husbands who are also Fathers,

You see that unconditional love you give to your side chick? Go home and give it to your children. If that your side chick had received unconditional love from her father, she wont be with you making her future useless!#RenosNuggets #EndSARS

— Reno Omokri (@renoomokri) October 31, 2020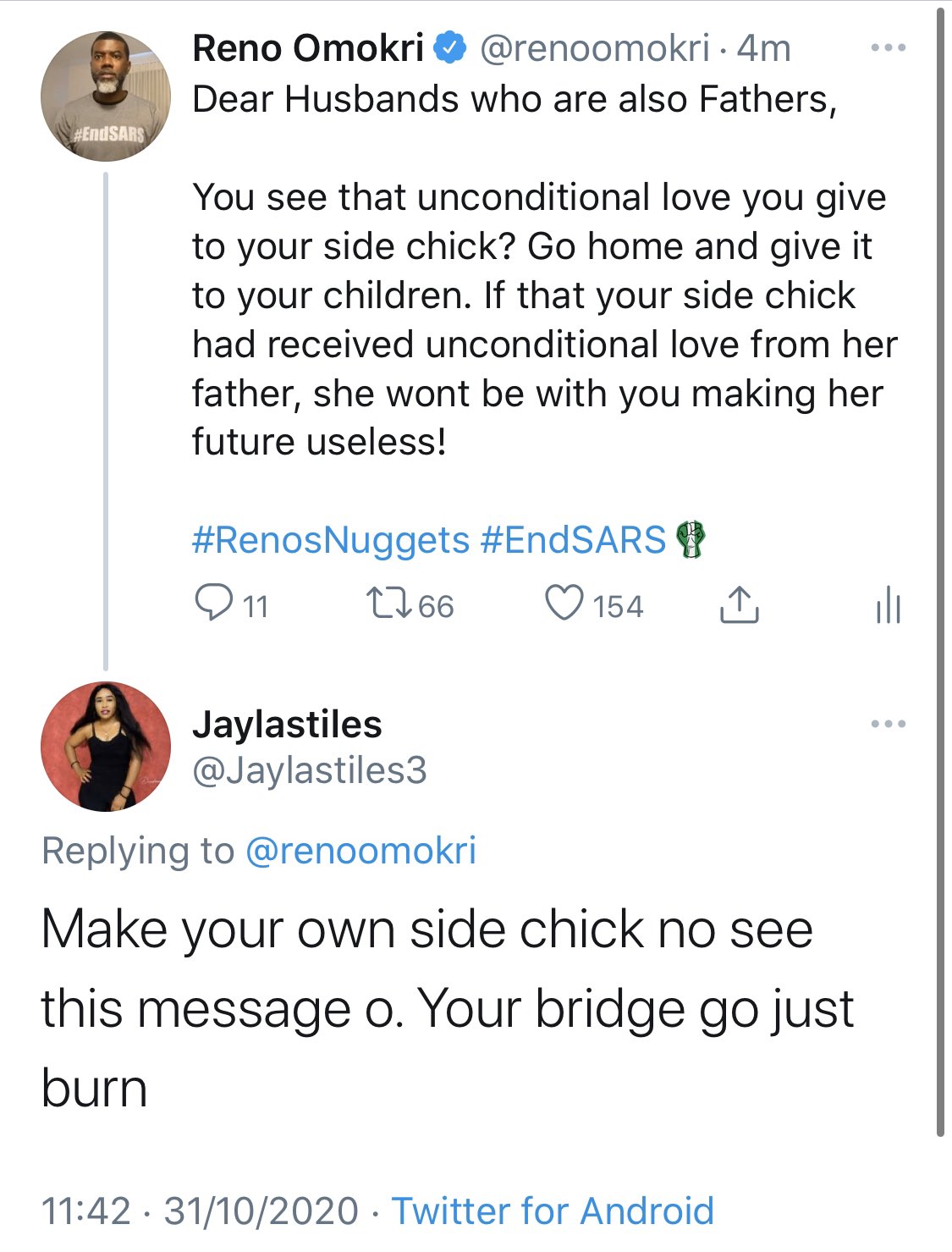 Dear @Jaylastiles3,

If there is any girl on Earth that I have slept with, since marrying my beauty queen of a wife, please speak publicly or forever be silent. Meanwhile, may it never be well with side chicks who break homes, unless they repent. In Christ's Name!#RenosNuggets pic.twitter.com/V20DgPxeet

— Reno Omokri (@renoomokri) October 31, 2020
Dear Husbands who are also Fathers,

You see that unconditional love you give to your side chick? Go home and give it to your children. If that your side chick had received unconditional love from her father, she wont be with you making her future useless!#RenosNuggets #EndSARS

— Reno Omokri (@renoomokri) October 31, 2020