How much is Alex Fine's net worth and what does he do for a living? There's a beef between Cassie's husband and her ex-boyfriend, Diddy. Details explored.
After her relationship with Sean "Diddy" Combs ended, Cassie began dating personal trainer Alex Fine.
Alex and the R&B singer have been married since 2019, a year after she and the music mogul broke up from their over-a-decade relationship.
While his professional achievements are noteworthy, Alex's personal life, too, has caught the public eye. His relationship and subsequent marriage to Cassie Ventura, the multi-talented artist, added another layer to his public persona. The couple, often showcasing their love and mutual respect on social media, became quick favorites for fans and followers. Their story, replete with heartfelt moments, milestones like the birth of their children, and mutual support in their respective careers, paints a picture of modern love in the limelight.
But interestingly, Alex Fine has been throwing jabs at Cassie's ex, Diddy, since he began dating the "Me & U" songstress.
While we break down Alex Fine's career and net worth with you, we'll share more light on his beef with Diddy and how it all started. Keep reading for more.
Who is Alex Fine, Cassie Ventura's husband?
Alex Fine is famous as the spouse of singer and songwriter Cassie Ventura.
Alex Fine is a fitness trainer born on March 12, 1993, in Cincinnati, Ohio.
He graduated from Lake Orion High School in 2011 and then attended Central Michigan University, where he played collegiate football and even made the Division I football team.
He also studied entrepreneurship, but just three weeks before he was set to graduate.
There is no information about his family; the names of his parents, their ages, and profession are unknown.
Also, nothing can be said about if he is an only child to his mother and father as he has stayed tight-lipped about his relatives.
The world got to know of Alex in June 2019 when the singer announced she was pregnant with her first child. At the time, she left no room for mystery when it came to who the father of her child was. She gave a big shoutout to her baby daddy, Alex, and tagged him.
"Can't wait to meet our baby girl," the singer captioned two photos of her and Fine. "Love You Always & Forever."
Cassie and Alex got married in a surprise wedding in California in September 2019.
How did Cassie and Alex Fine meet? Cassie and her husband Alex met in 2018 at the gym.
The couple debuted their newfound romance in December 2018 when Alex shared a picture of the two kissing on Instagram.
After eight months of dating, Alex proposed to the recording artist in August 2019.
Speaking with Vogue about the special day, Cassie said:
"When he got down on one knee, everything just stopped. I felt like I lost my sense of hearing. I saw just his mouth moving and he said, 'I want to spend the rest of my life with you.' I will never forget how special Alex made me feel that night."
The two wasted no time as they decided to tie the knot that same month in Malibu, California.
What does Alex Fine do for a living?
While Cassie is best known as a pop star, her husband, Alex Fine is the master of all trades.
Following his graduation in 2015, Alex developed a passion for fitness and left school to explore that field. He moved to Los Angeles to open his fitness center called Alex Fine Performance.
In addition to running his own business, Alex works as a personal fitness trainer for the Unbreakable Performance Center.
As for what sparked his interest, it was none other than Bradley Cooper's transformation for his film, American Sniper.
He's also a bull rider! It all started because of a bet that he made with Justin Pugh from the New York Giants. Since then, he's been enjoying it in his downtime.
Aside from being a trainer and bull rider, Alex is also a part-time spiritual adviser, nutritionist, and landlord to stars who temporarily crash at his home. But he's made it clear that he has no intention of stopping there. 
"I'm going to make as much money as I can, and then I want to travel, [and] make movies and T.V. and documentaries that are important to me," he explained.
How did Alex get into fitness training? In an interview, he explained: "I was like, 'Oh, Bradley Cooper got big for that role, I wonder who trained him.'" 
After spending tons of time investigating, he finally tracked down C.T. Fletcher, the guy who trained Bradley, and soon landed an opportunity to work with him, even though he had no certification or degree.
After working with C.T. for a few months, he had already worked with over 50 professional athletes, actors, and actresses. 
With his growing experience, he was able to break out on his own and start a personal training program, Alex Fine Performance. Since then, he's been featured in Men's Health Magazine and has trained with a laundry-list of famous stars and athletes, like Jennifer Aniston, Reggie Bush, Mark Consuelos and the cast of Riverdale (most of whom he's pretty close to).
Regarding his sessions with Alex, Mark noted: "He is easy to talk to, and has a really dry sense of humor. He has a good connection with his clients. He's good at what he does. If he wasn't good at what he does, or what he did, it doesn't matter how nice he is or supportive he is of his clients, nobody would give a s–t."
It's no wonder why Alex's clients love him so much, because according to him, it's more than just a couple of workout sessions. "Each one of the people I work with, it's a bond . . . because you realize with a lot of people, they're C.E.O.s or actors or athletes, they never have really spent one-on-one time with someone in a while, just because there's so many people around them," he said. "That's why we become close."
What is Alex Fine's net worth?
For his long years in the fitness industry, Alex Fine has accumulated an estimated current net worth of $5 million, as spotlighted by Idol Net Worth.
He accrued his fortune from his allure of athleticism and physical prowess beckoned.
Beyond personal training, his ventures into wellness programs and collaborations with fitness brands further elevated his professional standing. Alex's business acumen led to the launch of his company, Fine Fitness, which has rapidly become a go-to for those seeking optimal results.
In fitness and celebrity, Alex Fine carves out a space that's not just about physiques but also holistic well-being, love, and giving back. He has been associated with numerous charitable initiatives.
Focusing on physical education, youth sports, and community health, he's committed to ensuring that fitness and well-being benefits are accessible to all, regardless of socioeconomic background.
What is the beef between Alex Fine and Diddy about?
Cassie and Alex Fine's relationship was allegedly born out of infidelity. Diddy has suggested that the two were sleeping together while Cassie was with the music mogul.
Cassie and Alex never explicitly responded to the accusation, but that didn't stop a feud from erupting between the Bad Boy founder and Cassie's new beau.
Netizens first suspected that there was beef between Alex and Diddy following the release of the musician's 2022 single "Gotta Move On," which makes reference to a past relationship.
"You found a new man, so I gotta move on. Guess you got a new agenda with someone you barely know. I won't say you're wrong. Guess you had to move on," Diddy sings in the song.
Hours after Diddy released the song, Alex took to Instagram to post a message that some believe was directed at the artist.
"Happy Pride to all my LGBTQ+ friends," Alex wrote on his Instagram Story (via The Neighborhood Talk). Adding, "Attached is a charity that helps people who are in the closet and GOTTA MOVE ON. Along with other resources."
And while Alex didn't mention Diddy in the post, it seemed to spark the beginning of their feud.
In 2023, Diddy publicly discussed his return to publishing with his Bad Boy artists in an interview he had on Breakfast Club.
A blog did a post about his conversation and Cassie's spouse had more to say about the New Yorker.
"He's so old [and] fruity 🏳️‍🌈," Fine wrote on IG when reposting a photo from Combs' stint on The Breakfast Club.
No context was provided as to why the father of two felt inclined to diss Diddy, but the timing suggests it could be related to Cassie's music. Even if he was sticking up for his wife, Fine is still facing backlash for his choice of words.
"Listen, Alex, you keep insinuating these types of remarks but it's offensive to a community of people who are actually 'fruity,' as you would call it," reality star Bobby Lytes publicly informed the fitness lover. "One day, you too will get old and btw you actually are the one that gives off FRUITY. Keep it cute [white] boy 🤷🏽‍♂️😘 🌈."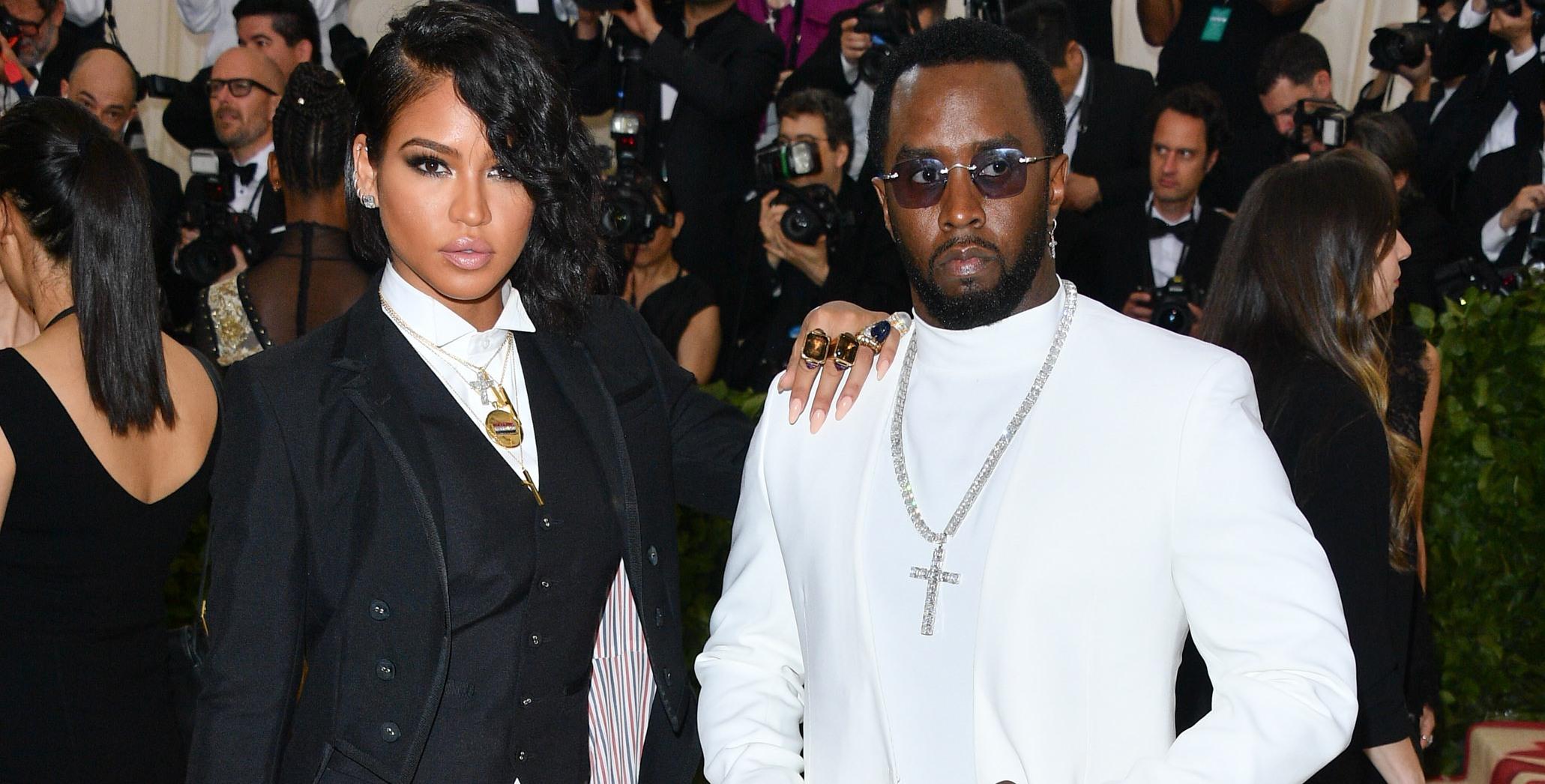 Cassie has sued Diddy, claiming he abused him during their decade-long relationship
Alex's feud with Diddy shows no signs of ending. Cassie has since filed a lawsuit against her ex-boyfriend, claiming that he was sexually abusive to her during their time together. In court documents filed on Nov. 16, 2023, Cassie alleged that she was subject to years of physical, psychological, and sexual abuse while dating Diddy.
"After years in silence and darkness, I am finally ready to tell my story, and to speak up on behalf of myself and for the benefit of other women who face violence and abuse in their relationships," Cassie said in a statement obtained by the Associated Press.
Diddy, through his attorney, vehemently denied the accusations and suggested that Cassie attempted to blackmail the music mogul before she filed her lawsuit.
Hours later after the lawsuit was made public, Alex threw his support behind his wife, Cassie.
The personal trainer subtly shared a photo from the couple's wedding day via Instagram Story, simply adding a red heart emoji. The sweet snapshot, which was deleted soon after, appeared to be a repost from a past Instagram collage from his account in August 2022.